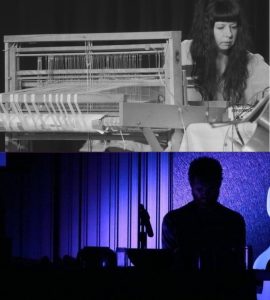 Sunday, November 14, 2021 8:00pm
Konig Room (TWH Social), The Walper Hotel, 1 King St. W., Kitchener
Nolan Hildebrand will begin the concert with a noise set where he will interpret a recently processed percussion, no input mixer, and an alarm clock. Headliner Kelly Ruth will close out the concert with beautifully evocative ambient music created on a weaving loom, effects pedals, and some light affected drone machines that she recently built. This concert was curated by NUMUS' assistant director, Nolan Hildebrand.
The live performance will be professionally recorded, and the encore presentation will be live streamed on December 3 at 8pm.
Tickets to live performance November 14 at 8pm.
Tickets to encore (virtual) presentation
.