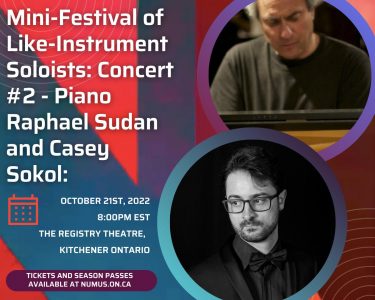 Friday, October 21, 2022 8:00pm
The Registry Theatre
122 Frederick Street, Kitchener
Raphael Sudan:
What does it mean, "creating music today"? From powerful playing inspired by free jazz to micro-phonic variations of a sound obtained by extended techniques or objects in the piano, while passing by lyrical incursions which nevertheless try to avoid sentimentalism: I do not deny my influences, from the most distant to the closest to our time, but which are all already part of the past. I impregnate my music with the urgency of the present moment, my choices are guided by instinct and the intuition that "now, this is it". I take the risk of failing – but also to be surprised and to open the door to a possible something new… And I aim to travel together with the audience on a journey through the music that springs from an ephemeral moment, on a very day that will happen only once before inexorably becoming part of the past… that we will perhaps remember!
Casey Sokol:
"Each time it really is the first time.
Casey has been concertizing in various idioms for many years but the most valuable is the one most full of delight, depth, communication and trepidation. Free improvisation is certainly the oldest musical form. (Before there was repertoire, what else would one do?) With a discipline of no prior concert planning of any kind, it has repeatedly been my first time for many years now, and it still is so, in order that Each time is really the first time."
This concert will also feature the winter of NUMUS' 2022/2023 Emerging Improviser Contest winner.
Tickets to live performance Oct 21st