Emerging Curators Year 5: How to Breathe While Dying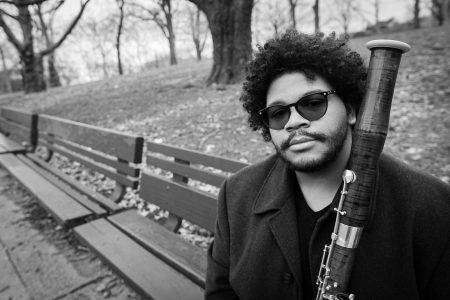 In the interest of public health, NUMUS will be postponing all concerts remaining in our 2019/2020 season. While we do not yet know when these events will be rescheduled, this information will be shared as soon as we have more information. The safety and wellbeing of our artists, audience, and volunteers is of the utmost importance and we believe this to be the best course of action at this time. Watch our social media for more updates and information about rescheduling. In the meantime, we wish you all health, safety, and peace of mind during this difficult time.
'How to breathe while dying' is NUMUS' final concert of their 2019-202 mix series curated by Emerging Curator Winner Olivia Shortt. Featuring New York City-based advocate, acclaimed composer and performer Clifton Joey Guidry III as well as projections by Kichwa digital media artist and filmmaker Samay Arcentales Cajas, this concert marks the Eastern Canada debut of Guidry as they embark on a 5-day tour of Southern Ontario including stops in Kitchener-Waterloo, Guelph and Toronto among others.
Guidry's performance will highlight new works by Black and Indigenous composers for bassoon complemented by projections designed by Cajas at The Walper. This concert will also feature a pre-show discussion between Guidry and playwright, director and DORA-nominated artist Yolanda Bonnell.
Pre-show Topics: Fatness, Blackness, Indigeneity, mental health, white fragility, racism and systemic oppression.
Clifton has been featured as a composer and performer on concerts and recitals all over the United States, Kenya and Aruba and at the Banff Centre for the Arts. Guidry's compositions will be featured at the Spoleto Festival in 2020.
Trigger and content warning: Video used in one piece contains distressing images.