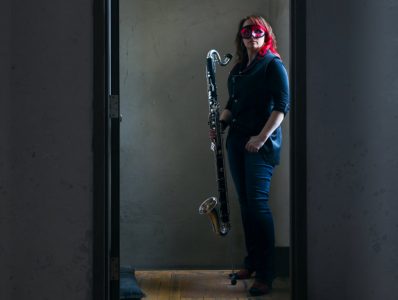 Saturday, January 11, 2020 8:00pm
The Walper Hotel
20 Queen St. S., Kitchener
Admission is free
Join our artistic director Kathryn Ladano for her official Album Release Party for her second solo album, "Masked"! Taking place in the Konig Room at the Walper Hotel (downstairs, next to TWH Social), come and enjoy two great sets of music, enjoy a drink, and check out the albums for sale – in both CD and LP formats. Admission to this event is free.
Set 1:
An eclectic mix of electroacoustic sounds performed by members of Harp+ and the Seagram Synth Ensemble: Grace Scheele, Dave Klassen, and James Reesor.
Set 2:
A solo set by Kathryn Ladano featuring improvisations similar in concept and form to those found on "Masked".
Info about the album:
The music featured on "Masked" was created spontaneously in the moment. Each piece was improvised without a plan and is meant to represent a live performance experience of Kathryn's music. None of these tracks have been edited in any way in order to create as authentic a recording as possible. The concept of this album is largely based on Kathryn Ladano's PhD thesis, "The Improvising Musician's Mask: Using Musical Instruments to Build Self-Confidence and Social Skills in Collective Free Improvisation". The results of that research significantly influenced this project. Our instruments are our masks; they allow us to express our true selves.